Is Flyte right for me?
Flyte® is designed to help women who want to strengthen pelvic floor muscles and treat mild, moderate or severe stress urinary incontinence (SUI) —  the bladder leaks that happen when you laugh, cough, sneeze, exercise or lift things.
Wondering if Flyte® can help you? Here are some steps to take.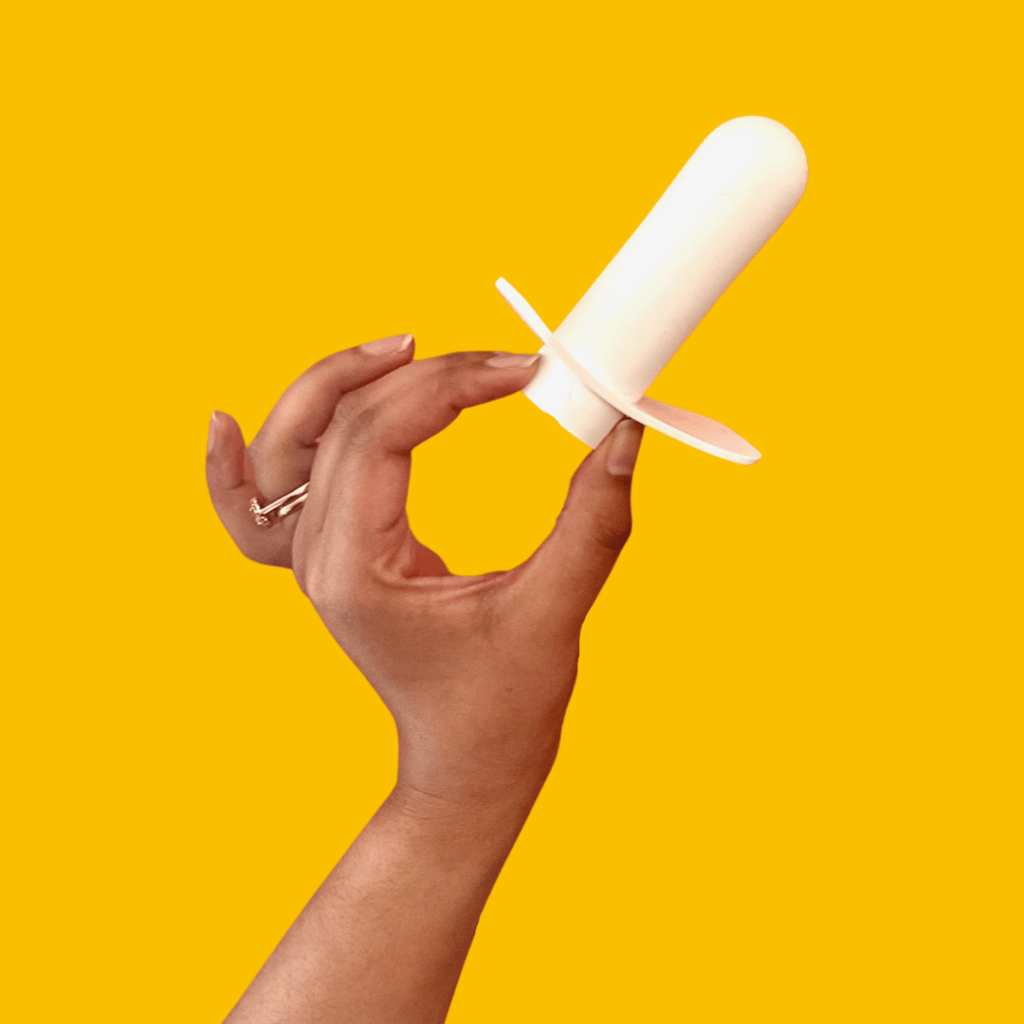 Think about if you're:
Looking for a simple approach with a home-use product that doesn't require you to download an app or use a WiFi or Bluetooth connection to work. Flyte doesn't. It is simple and easy-to-use.
Looking for an alternative to surgery or electrical stimulation, which some women report is uncomfortable.
Looking to do something more than just Kegel exercises. Flyte® is  designed to work fast – in as little as 5 minutes per day for a six-week standard treatment time — it's a lot easier to stick with than Kegels.
Looking for a product backed by strong clinical evidence. We believe that women deserve safe, effective, well-studied products. See Flyte's® clinical evidence
Comfortable with using an intravaginal device. We get it. Some women won't be and that's OK. Others will weigh the benefits and decide to try it.
Able to commit to using Flyte® for 5 minutes per day for the 6-week standard treatment time. While Flyte® requires one of the shortest treatment times compared to other home-use treatments, it will require your time.
Tired of spending money on pads. See our Cost of Coping article and consider Flyte® to help you save money over time.
Fed up with dealing with leaks. Flyte® comes with a money back guarantee. Why not try it?
Looking to do something. Leaks often get worse over time
Check out Ask a PT
Browse video content of common questions and answers about the pelvic floor, SUI and Flyte®. Or, schedule a free phone chat with our Customer Care Manager who is also a pelvic floor physical therapist. No sales pressure. Just answers.
Take the SUI questionnaire
Only a healthcare professional can diagnosis you, but the questionnaire can give you insight into the type of incontinence you have. Flyte® is designed to strengthen and treat weakened pelvic floor muscles – a cause of SUI.
Talk to a healthcare professional
There's no substitute for a clinical consultation and medical advice provided by a doctor, nurse practitioner, or pelvic floor physical therapist.
If you've started using Flyte, you might be wondering, when do I call my doctor or healthcare professional? When do I contact Pelvital customer care? Here are some tips:
Stop using Flyte and call your healthcare professional for medical questions or concerns:
I am experiencing unusual pelvic pain, irritation, spotting or bleeding
I think I might have an infection
I think I might be pregnant
Contact Pelvital when you have a question about Flyte such as:
I am not sure how to use Flyte
I am not sure how to contract my muscles with the Flyte wand
I want to sign up for the Flyte follow up program
I don't think my Flyte device is working properly
You can also review the support content for information and answers about Flyte.
Take a look at the Flyte indications and contraindications
While Flyte® is not right for everyone, it is a solution for many women looking for a clinically proven, home-use product that strengthens pelvic floor muscles and treats mild, moderate, or severe SUI.
Indications for Use
Flyte® is intended for the strengthening of the pelvic floor muscles, which has been found to help women with stress urinary incontinence.
Contraindications
Do not use Flyte® if you:
Are under 21 years of age.
Have given birth in the past 6 weeks.
Have had genitourinary or pelvic surgery in the past 6 weeks.
Have had vaginal surgery within the past 3 months.
Have experienced unusual or unexpected vaginal bleeding in the past 6 months.
Experience pain or a burning sensation when you urinate, which could indicate a urinary tract infection.
Experience vaginal discharge that has an odor, irritation, soreness, or itching, which could indicate a vaginal infection.
Have been diagnosed by your doctor with a severely dry (atrophic) vagina, also known as genitourinary syndrome of menopause (GSM).
If you have a sensitivity or allergy to silicone.
Ask your doctor before using Flyte® if you:
Are pregnant.
Experience pain during sexual intercourse or when inserting a tampon or tampon-like device, which could indicate atrophic vaginitis, also known as genitourinary syndrome of menopause (GSM).
Often have trouble keeping in a tampon or tampon-like device, which could indicate vaginal prolapse.
Do not use Flyte®:
If insertion of the Flyte® wand causes excessive discomfort.
With a tampon, a tampon-like device, a diaphragm, a pessary, or other intravaginal product.
During sexual intercourse.
On rare occasions when the wand causes irritation.
For any reason other than its intended purpose.